JAMES has a wide range of ceramic lamp holders: medium base, Mogul Base, Bi-Pin socket, Keyless light fixture, E40, E39, E27, E26, E17, B22, B15, G9, GU10, MR16, R7S, G4, etc.
Custom-made ceramic sockets are our strength, customizing a lamp holder can meet your particular lighting needs. so feel free to contact us!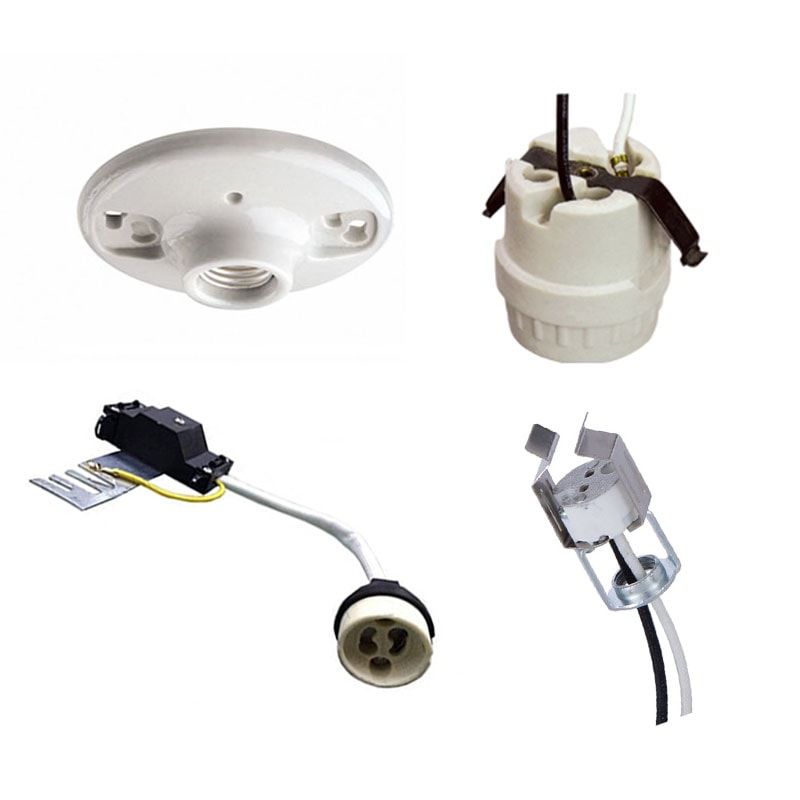 What is a ceramic lamp holder
A ceramic lamp holder is a socket used for holding a light bulb in place in a lamp or light fixture. It is made of heat-resistant ceramic material, which helps to prevent the holder from cracking or melting due to the high temperatures generated by the bulb.
The ceramic lamp holder typically consists of a socket to hold the bulb and two or more metal prongs that connect to the electrical wiring of the lamp or fixture. The prongs are usually made of brass or another conductive metal to provide a secure and reliable electrical connection.
Ceramic lamp holders are commonly used in household lamps, light fixtures, and other lighting applications.
 JAMES is a professional manufacturer of ceramic lamp holders from China.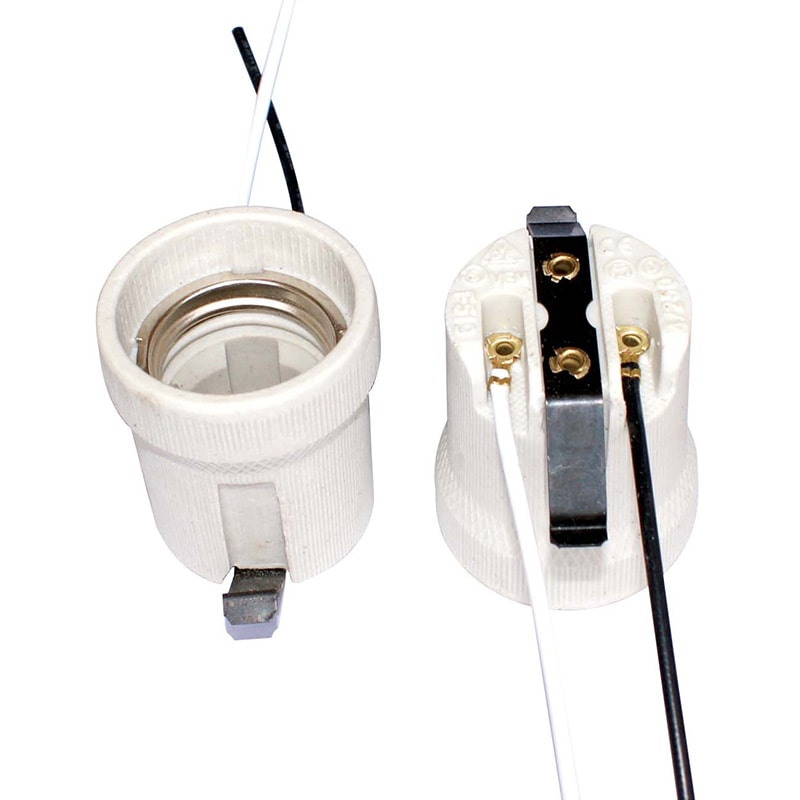 All You Need to Know About Customize Ceramic lamp holder
Customizing a ceramic lamp holder can be a great way to create a unique lighting solution that meets your specific needs and preferences.
We have extensive experience in customizing ceramic lamp sockets. Our engineers will explain the details of material, surface treatment, structure, and function to you in detail. And all you have to do is to send an email and let us establish communication.

About Porcelain light fixture
Medium Ceramic Lamp Holder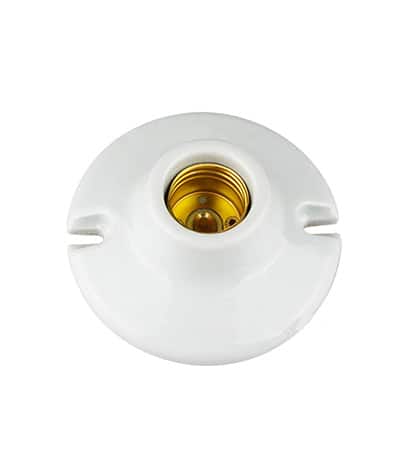 Keyless light fixtures are available in a wide range of styles and materials, including metal, plastic, and ceramic.
Keyless light fixtures can accommodate a variety of bulb types and wattages, depending on the specific requirements of the application.
E26 porcelain medium lamp holders can be easily installed by attaching the base to the ceiling or wall and wiring it to a power source.
Keyless light fixtures are commonly used in applications where the lighting needs are relatively basic, and there is no need for a switch or other additional features.
Ceramic lamp holders are a class of lamp holders with a relatively simple structure.
JAMES is to provide customers with tailor-made product solutions. From material to structure, from every size to surface treatment.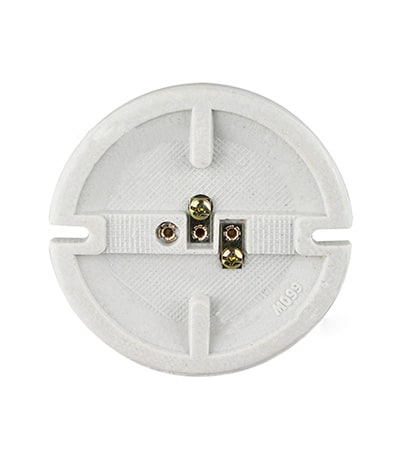 About the Glazed Porcelain Sockets
Heat-resistant: Ceramic material used in the socket is highly resistant to heat, making it a safe option for high-temperature lighting applications.
Durable: Ceramic is a sturdy material that can withstand impact and is less likely to crack or break compared to plastic or metal sockets.
Corrosion-resistant: Ceramic material is also resistant to corrosion, which ensures the longevity of the socket.
Easy to install: E26 medium ceramic lamp sockets are designed to be easy to install and typically come with instructions for quick and simple installation.
Compatible with various bulb types: E26 medium ceramic lamp sockets can be used with a wide range of bulb types, including incandescent, LED, and CFL bulbs.
Versatile: The medium size of the socket is a standard size used in a variety of lighting applications, making it a versatile option for different types of lighting fixtures.
Safe: Ceramic sockets are safer than plastic or metal sockets because they do not conduct electricity and are less prone to overheating.
Aesthetic appeal: Ceramic sockets can add a decorative touch to a lamp or light fixture, making them a popular choice for interior design purposes.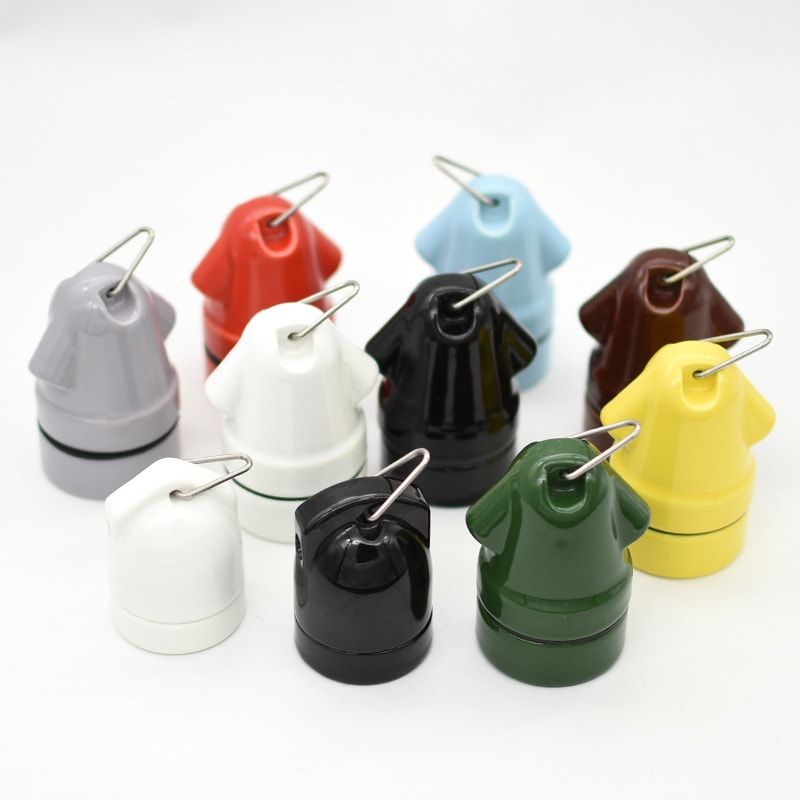 James produces ceramic lamp holders for virtually every light source equipped with incandescent, LED, or CFL lamps.
Lamp-holders include incandescent medium base, and specialty sizes & HID lamp holders, in addition to a large line of porcelain lamp holders including pulse-rated mogul-base products, and an extensive selection of devices for high-intensity lamps.
Medium Base, One-Piece Glazed Porcelain Outlet Box Mount, Incandescent Lamp holder, Keyless, White.
Ceramic lamp holders are often used in garages, workshops, basements, and other areas where the lighting is primarily functional rather than decorative.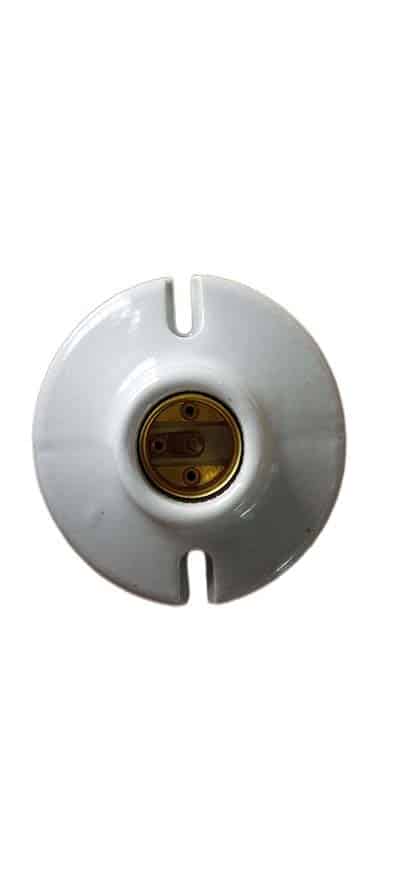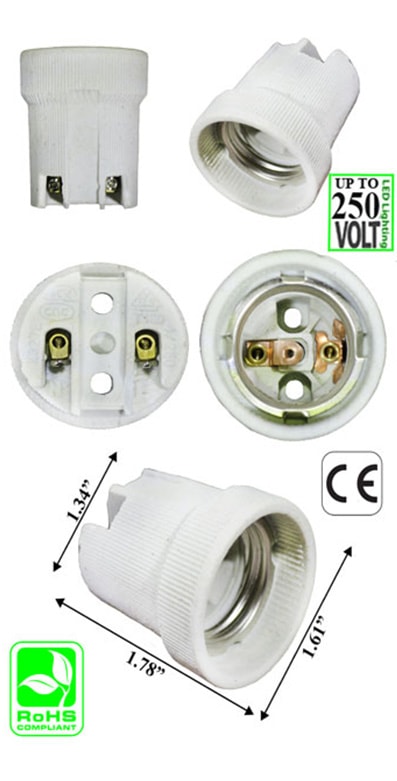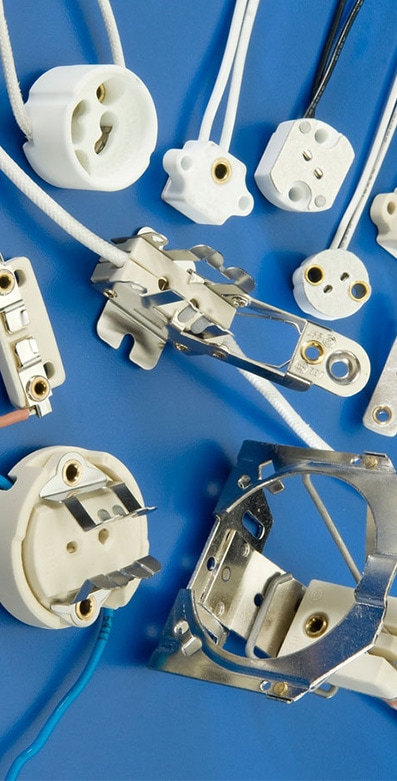 We Leave
No Room
For Doubt
FAQs About Ceramic Lamp Holder
Yes, we are a professional manufacturer for lamp holders since 1991, export to USA, France, UK, Germany, Brazil, Middle east, etc.
Can you accept OEM & ODM?
Yes, we have a professional team to produce the ceramic lamp holder according to your demands and drawing.
Can you provide the free samples?
Yes, after ceramic lamp holder price confirmation, you can request samples to check our quality counter display.
If you need the samples, we will be free of charge for the samples' cost. but the freight is on your side.
You can contact us by email about your order details, or place order on line.
After you confirm our PI, we will request you to pay. T/T and PayPal, Western Union are the most usual ways we are using.
WHAT ARE THE PAYMENT OPTIONS?
We have the following payment methods:
1. Lead Time: 20 days after received 30% deposit
2. Payment: T/T, L/C at sight, Western Union
3. Free samples for one to three pieces, Freight on the customers' side
4. LCL by express, e.g: FEDEX, DHL,UPS,TNT, etc
5. FCL or LCL by ship.
Send us a message if you have any questions or request a quote.