B22 Bayonet Cap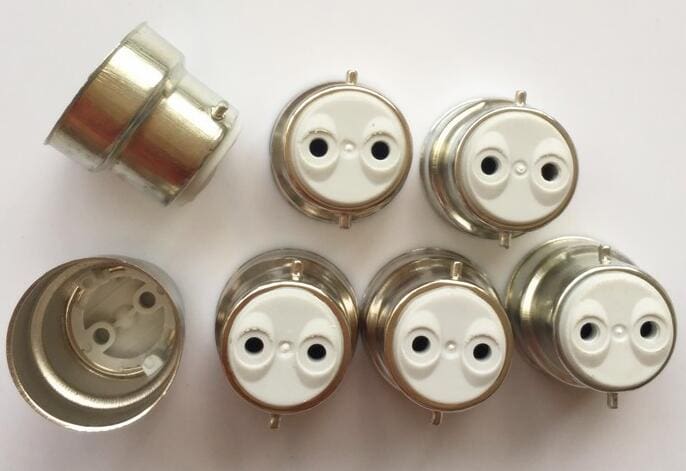 B22 Bayonet Cap lamp cap
Certificate: CE and RoHS
Voltage: 250V
Working Current:4-6A
Material: Nickel brass, Ferrous Nickel plated Bayonet Cap
Feature: Safe, durable,cost-effective
Bayonet Cap Types: Solder free b22 Bayonet Cap
Carton Size: 51*31*30cm
Quantity per CTN: 2500pcs
Shell body Material:    Iron
Insulator type:           PBT
Color:    Silver
Solder Heat:    110℃
Usage:      Lamp Accessiories
Surface treatment:      Nickel plating
OEM:    Available
Warranty:    2 Years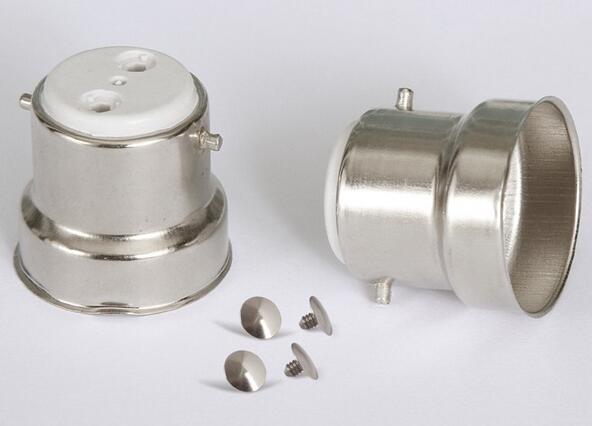 B22 Bayonet Cap
With its familiar "push and twist" action, "bayonet cap" (also known as BC or B22d) is used on most regular light bulbs. It is 22mm diameter and with two locating lugs.
The "small b22 bayonet cap" (SBC or B15d) is very similar but only 15mm across.
Although generally used for mains voltage lamps, the SBC fitting can also be found in a very small number of specialist low voltage halogen lamps.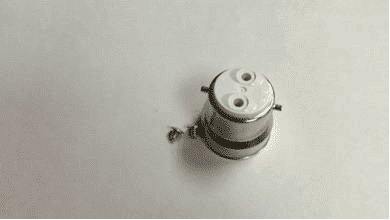 There are also many other "BC" variants including the 3-pin BC, B22d-3 Bayonet Cap sometimes used on Fireglow lamps but perhaps more commonly on High pressure mercury lamps for industrial applications. The BY22d is used on some low-pressure sodium (SOX) lamps.
E14 lamp cap Edison Screw Cap, 5000pcs in a carton, 9.5kgs
E27 lamp cap Edison Screw Cap, 2500pcs in a carton,10kgs.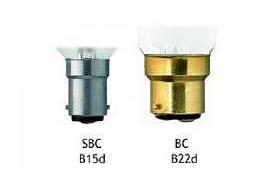 Bayonet Cap are often abbreviated to BA, often with a number after. The number refers to the diameter of the Bayonet Cap (e.g., BA22 is a 22 mm diameter bayonet cap lamp). BA15, a 15 mm base, can also be referred to as SBC standing for small bayonet cap. The lower-case letter s or d specifies whether the bulb has single or double contacts.
Type    IEC    DIN    ANSI
B15d    IEC 60061-1 (7004-11)    DIN 49721
BA15d    IEC 7004-11 A    DIN 49720
BA15s    IEC 7004-11 A    DIN 49720
BA20d    IEC 7004-12    DIN 49730
B21s-4
B22d    IEC 60061-1 (7004-10)
BY22d
B24s-3
Related Items